I received an award from my pal, Linda, called the Marie Antoinette Award and on the icon, it reads "real people, real blogs." Fortunately, I qualify for both of those descriptions as each year, the IRS takes money from me (which makes me real) and every time I click the link to make an entry in my journal, this particular site comes up, so I assume that my journal (I hate the word blog...sounds too much like clog) is real.

The award comes with rules and two of the main ones are to pass the award to up to ten deserving "blogs" and to post links or something to that effect. With my understanding of mathematics and multiplication, I assume that sooner or later, the award will be given to most all of the journalists, especially the people who were forced to flee communist AOL by boat or raft, cross the Florida Straits and seek refuge at Blogspot.Com. I can't think of a more deserving group of persistent people than AOL journalists. Be that as it may, I will limit the number of people who I feel deserve this award as given by me.
Being somewhat of a non-conformist, I will forego the detailed rules and just mention some of the people who have been kind enough to follow my journal for the past two years and in that time, have become very special to me. If I were to go into detail about each and every one of the following people, today's entry would become a book, I'd have to hire a literary agent, go on a book tour, sign books and......, but I digress.

I know that some of these people (who I will list in alphabetical order for my own safety) already have been given this award, but I want them to know that I considered them as well:

1) Anne - Saturday's Child 2) Garnett - my Brain is In Pain 3) Jackie - Life In Bama 4) Julie - Julie's New Journal 5) Missy - My Sanctuary 6) Myra - The Randomness Of It All 7) Nancy - Nancy Loves Pix 8) Pamela - Times Of My Life 9) Paula - Pauline's Country Tales 10) Rose - Roses Are Read 11) Sherry - Sherry's Journey.

I could go on and on as I am fortunate to know and read several other fine journalists who are always a pleasure to read. I would be remiss not to say that my pal Linda would also be on the list as well as my pal, Indigo, but they've already been bombarded with the same award and deservedly so.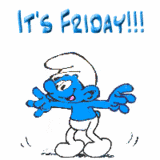 It's Friday and I'm going to AREA 51 tonight with a little bit of a different agenda in mind. I've spoken to a few different lady friends that I haven't seen in a while and they all wanted to know where I've been hanging out lately. So, with that in mind, I'll probably see them this evening in AREA 51 and that will be fun.

TodaysThoughts: What if the Hokey Pokey is really what it's all about? Never, under any circumstances, take a sleeping pill and a laxative on the same night. Bills travel through the mail at twice the speed of checks. For every action, there is an equal and opposite government program. There is a very fine line between "hobby" and "mental illness." It ain't the jeans that make your butt look fat. If everything seems to be going well, you have obviously overlooked something. Support bacteria - they're the only culture some people have.

This Date In History: 1620; The Mayflower, in which the Pilgrims crossed the Atlantic Ocean to the New World, drops anchor off the site of present-day Provincetown, Massachusetts. 1695; Henry Purcell, widely considered to be England's greatest native composer, dies in London aged about 36. 1918; As part of the Armistice terms that ended World War I, the German fleet surrenders to Britain at Scapa Flow, Orkney.

1942; The Alaska Highway, linking Canada with Alaska, is completed. 1995; The Dayton Peace Accord, officially ending the Bosnian-Croatian-Serbian War, is signed in Dayton, Ohio.
Picture Of The Day: It's Friday and there's some fine fillies somewhere out there in AREA 51 that I haven't seen in a while so I thought I'd kinda give you a visual image of what I was thinking.

Birthdays: Voltaire, French writer and intellectual 1694, Sir Arthur Quiller-Couch, author and writer who published under the pen name of Q 1863, René Magritte, Belgian painter and artist 1898, Coleman Hawkins, American jazz musician 1904, Malcolm Williamson, Australian composer 1931.

The Hits Just Keep On Coming

A woman who had bags under her eyes wanted to get them removed so she could look younger so she went to a plastic surgeon. She tells the doctor I cant get rid of these bags please help me. The doctor says he is gonna try and new experimental technique on her. He will put a crank in the back of her head and when she sees bags under her eyes she's supposed to crank it and the bags will go away.

So she gets this crank put in her head and leaves. It works and works for a while until one day she cant get rid of these bags under her eyes. She cranks and cranks as hard as she can but they just won't go away.

So she goes to the doctor.She says to the doctor, "Doctor, this was working for a while, but I can't seem to get rid of these bags under my eyes." The doctor replies, "Lady those aren't bags, those are your boobs." The woman replied, "Now that explains why I have this goatee."
That's it for today my saucy little cranberries. Have a great and safe weekend and more on Monday.


Stay Tuned !