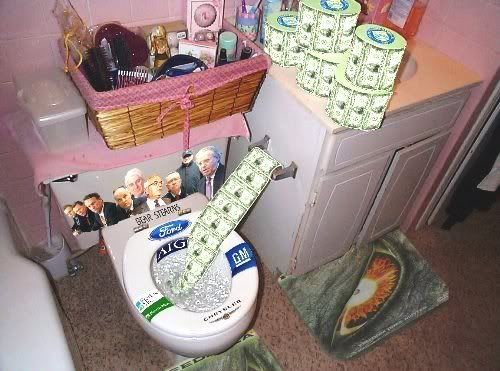 As I reflect on 2008, I can say we had a great year. Blacks are happy that Obama was elected. Whites are happy that OJ is in jail. Democrats are happy that George Bush is leaving office. Republicans are happy that Democrats will finally quit saying George Bush stole the election. Finally, all of us are so happy that the election is over!

I think 2009 will be even better. Immediately after his inauguration, Obama will balance the budget, revive the economy, solve the real estate problem, solve the auto industry problem, solve our gas/alternative energy problem, stop the fires and mudslides in California, ban hurricanes and tornadoes, stop identity theft, reverse global warming, find Osama, solve the Israeli-Palestinian conflict, get rid of corruption in government and achieve world peace . Then on the 7th day, he will rest.
On a serious note, I'd like to thank my pal Garnett for his continuing contributions to this journal. I like to think that I am relatively up to date with my thoughts and humor and I am continually foraging for that special joke or story for my entries. But, you can be sure that if, for some reason, I miss some of the current humor or stories of the day, I can always count on Garnett to email me something new or different. If you enjoy off-the-wall humor and commentary, please stop by Garnett's journal called "My Brain Is In Pain Again. http://garnett109.blogspot.com/
Today's Hump Day and under normal circumstances, I'd be going to AREA 51 for a little rest and recreation. The minor exception to this plan would be that if I happened to play dominoes and poker until 5:00 this a.m., which I did. My pal, Emilio, contributed to my delinquency and I doubt that he is any better shape than I. Nevertheless, after an afternoon nap, I feel pretty good, so we'll see what happens tonight/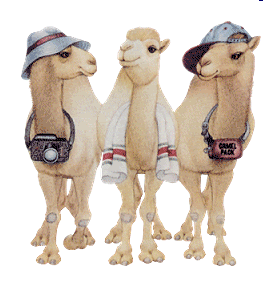 Authors Note: BlogSpot is evidently having some picture upload problems, so I've resorted to Photobucket for today's pictures. If at the time of this post you see more than two photos, it means the problem was resolved.
This Date In History: 1558; Calais,the last English possession in France, falls to the Duke of Guise. 1610; Italian astronomer Galileo observes three satellites orbiting Jupiter. 1785; French aeronaut Jean Pierre Blanchard and American physician John Jeffries of Boston are the first to cross the English Channel successfully in a gas balloon. 1927; Commercial phone service across the Atlantic begins. 1979; The brutal regime of Pol Pot in Cambodia is overthrown. Picture Of The Day: Today's invention day 'cause Blogspot picture uploader's on the fritz (not Mondale). Hope this works!
Birthdays: Millard Fillmore, 13th President of the United States 1800, St Bernadette, French visionary 1844, Jean Rampal, French flautist, who brought the flute to prominence as a virtuoso solo instrument in the 20th century 1922, Gerald Durrell, British conservationist and writer 1925.

The Hits Just Keep On Coming: My thanks to my pals Linda and Garnett for the following stories.

Three contractors are bidding to fix a broken fence at the Governor's Mansion in Springfield. One is from the capitol city of Springfield, another from the small town of Petersburg, and the third from Chicago. They go to the job site with Governor Rod Blagojevich to examine the fence.

The Springfield contractor takes out a tape measure and does some measuring, then works some figures with a pencil. He says, "well, I figure the job will run about $900. That's $400 for materials, $400 for my crew and $100 profit for me."

The Petersburg contractor also does some measuring and figuring, then says, "I can do this job for $700. That's $300 for materials, $300 for my crew and $100 profit for me."

The Chicago contractor doesn't measure or figure, but leans over to the Governor Blagojevich and whispers, "$2,700." Blagojevich says, "Hey, you didn't even measure like the other guys! How did you come up with such a high figure?"

The Chicago contractor whispers back, 'that's $1000 for me, $1000 for you, and we hire the dumb ass from Petersburg to fix the fence." The Governor says, "Done!" And that, my friends, is how business is done in Illinois!!!

Dr. Calvin Rickson, a scientist from Texas A&M University has invented a bra that keeps women's breasts from jiggling, bouncing up and down, and prevents the nipples from pushing through the fabric when cold weather sets in.

At a news conference, after announcing the invention, a large group of men took Dr. Rickson outside and kicked the shit out of him.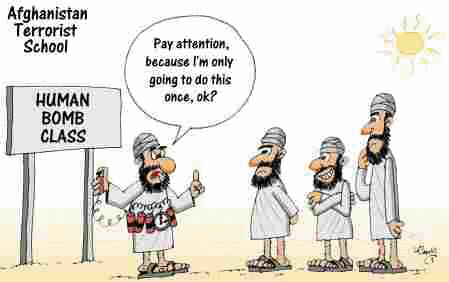 That's It for today my little Playtex Pushups. More on Friday.
Stay Tuned !